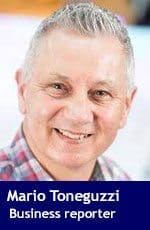 Canada's oil and gas industry has undergone a significant transformation in the past decade. And as the industry has adjusted to the ups and downs of the economy, there were corresponding shifts in the distribution of the industry's workforce and the daily experiences of those workers, says a new report by PetroLMI, a division of Energy Safety Canada.
The report, Canada's Oil and Gas Workforce: Distribution, Work Patterns and Income, said the industry saw a 15 per cent increase in the size of its workforce from 2006 to 2016 but growth was mostly concentrated in exploration and production.
It said the workforce grew from 164,800 in 2006 to 178,000 in 2011 and then to 189,500 in 2016.
"The industry's transformation was also illustrated through changes to its occupational composition between 2011 and 2016, as positions in engineering and applied sciences became more prominent and occupations related to drilling, servicing and testing were negatively impacted," said the report.
"The analysis also highlights the increasing number of oil and gas workers residing outside Western Canada, particularly in the Atlantic provinces. This trend reflected the growing importance of temporary relocations as a hiring strategy for remote industry operations. In 2016, oil and gas workers' daily experiences were characterized by longer commutes, often over an hour, and a greater likelihood than the average Canadian worker to have no fixed workplace."
It said the industry's workforce also shifted toward more part-time and temporary positions by 2016 as a response to uncertainty in the industry.
Other report highlights include:
British Columbia, Alberta and Saskatchewan were home to about 85 per cent of the industry's workers in 2016. Central Canada employed nine per cent and the remaining six per cent were in Atlantic Canada.

Oil and gas workers were nearly twice as likely as the average Canadian to have no fixed workplace. Over 20 per cent of the industry's workforce reported they didn't go to the same location every day for work.

Oil and gas workers were also twice as likely as the average Canadian to travel one hour or more for work. Longer commutes are a result of industry operations in remote locations.

Forty-four per cent of oil and gas workers worked part of the year (i.e., fewer than 49 weeks) and/or part-time (i.e., fewer than 30 hours) in 2016, increasing from 41 per cent in 2006, a reflection of companies' attempts to manage the uncertainty in the economy.

The average income among oil and gas workers increased from $101,200 in 2011 to $125,300 in 2016. The exploration and production sub-sector had the highest average income at $153,600, followed by pipelines at $145,100 and oil and gas services at $95,700.
"Between 2010 and 2014, Canada's oil and gas industry benefited from rapid and sustained growth. As oil prices surged, so too did industry spending, production and employment," said the report.
"Oil and gas companies and service providers alike experienced labour and skill shortages for many occupations and operating regions. Companies intensified their attraction and retention strategies and tactics, escalated their labour costs and found alternative worker arrangements to cope with worker shortages.
"The protracted oil price slump began in late 2014 and triggered a structural shift in Canada's oil and gas industry. There have been significant job losses and changes to the workforce. … The industry's sub-sectors experienced divergent trends in workforce growth during the 10-year period. Rising oil and gas production resulted in 23 per cent growth in the exploration and production (E&P) sub-sector's workforce, from 72,500 workers in 2006 to 88,900 in 2016. The pipeline sub-sector experienced even stronger growth as its workforce nearly doubled, increasing 95 per cent from 4,300 workers to 8,400 during the period. Meanwhile, the number of oil and gas service workers grew by just five per cent, from 88,000 to 92,300, in part due to downturns during the period that affected this sector more than others.
"The recent economic downturn resulted in capped expansion that also constrained growth in the oil and gas services sub-sector. Beyond these economic trends, technological and process improvements impacted workforce growth in the industry. Companies were focused on efficiency-enhancing technologies as part of a strategy to manage labour costs and improve productivity. Notably, the number of workers required to produce and transport 10,000 barrels of oil equivalent per day (BOE/d) was nearly 20 per cent lower in 2016 compared to 2010. While oil and gas services remained the largest sub-sector employer, its share of the total oil and gas workforce declined from 53 per cent in 2006 to 49 per cent in 2016. Growth in pipelines and in unconventional resources, including oil sands, shifted the industry's workforce towards the E&P and pipeline sub-sectors."
Respected business writer Mario Toneguzzi is a veteran Calgary-based journalist who worked for 35 years for the Calgary Herald in various capacities, including 12 years as a senior business writer.
---

The views, opinions and positions expressed by columnists and contributors are the author's alone. They do not inherently or expressly reflect the views, opinions and/or positions of our publication.
Calgary's Business is a Troy Media Digital Solutions Associate website